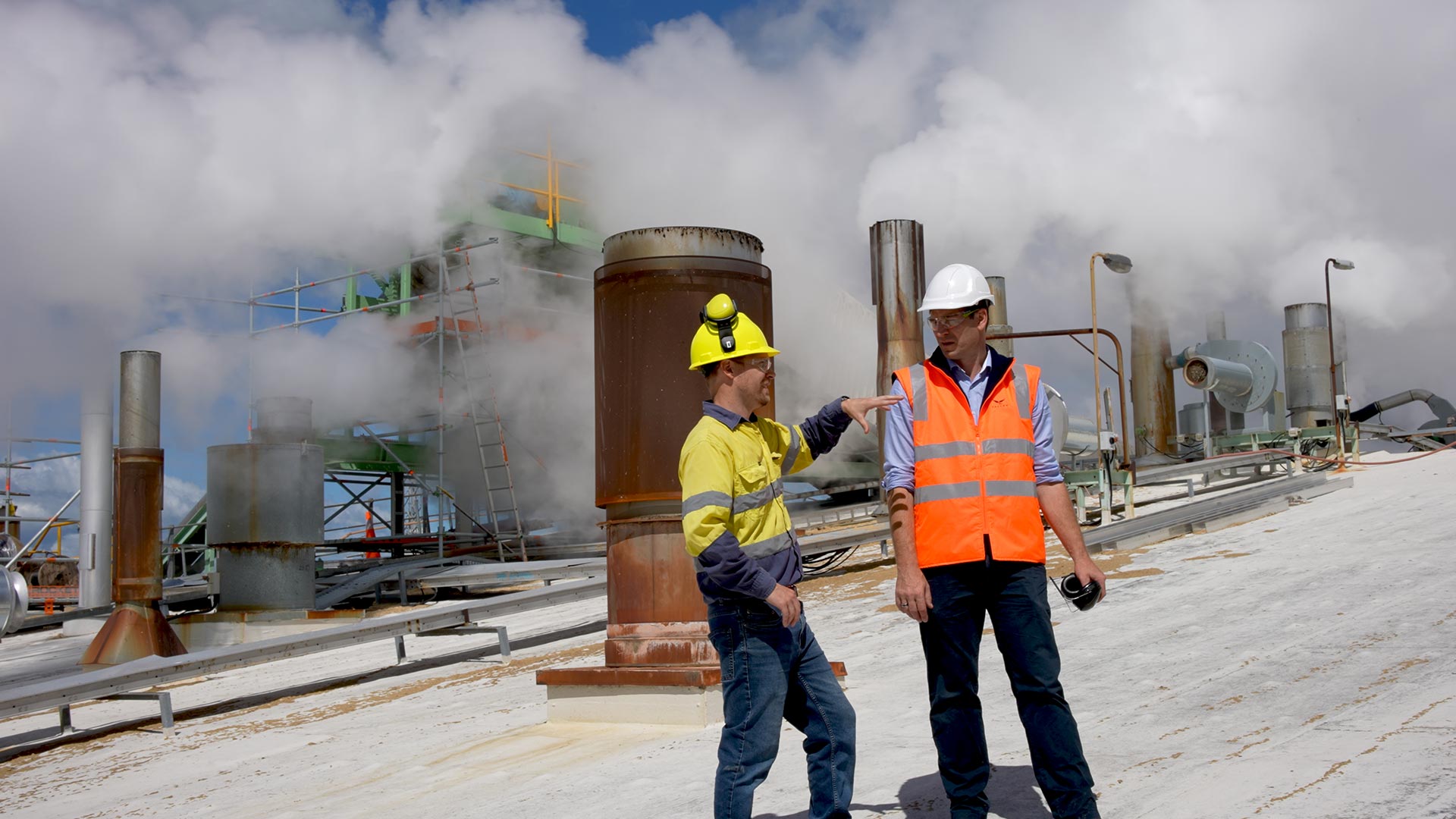 Falcon sees the Geothermal Power Station partnership project in Taupō as a way to help decarbonise New Zealand, leading to a more sustainable solution for our planet's environment.
31 people working on-site

24 kilometres of cable  

401 cable test sheets  

12150 Hrs LTI free to date  

Pre-commissioning is now underway
The Te Huka Geothermal Power Station, also known as Tauhara One, is a 23 MW binary-cycle geothermal power station in Taupō New Zealand, a huge project Falcon has been a part of since 2020. The Taupō volcanic zone is rich in geothermal activity and is one of the main regions for electricity generation. 

The Tauhara steam field powers the plant, with steam and fluid, which is then re-injected back into the ground, virtually nothing (except water vapour) is emitted to the atmosphere. It is a cost-effective, reliable, sustainable, and environmentally friendly energy source with the potential for binary-cycle geothermal power to become one of our main sources of electricity in the future.
Falcon's services have been a part of the development of the Geothermal Power Station including the safety case project to upgrade the HV protection, which was successfully completed by C Bidlake and Kevin Moore. Jason Riley managed the project alongside Team Leader – Jiah O'Brien, Project Supervisor – Guy White, and QC and Scheduling Manager – Roy, plus 31 team members onsite. 
Contact Energy also has a major part to play in the project, recently purchasing 100 per cent of the shares in the geothermal company –
Western Energy Services, ahead of the Tauhara number 2 project. The station's electricity is connected via a 33,000-volt line to Transpower's Wairakei substation, powering Taupo and the national grid. Contact is pushing New Zealand's ambitions to decarbonisation, which can only benefit the Regional and National economy by offering a more sustainable solution for our environment.
What does geothermal energy mean for our planet's future?
The carbon footprint for a geothermal power station is lower than other fossil fuel power stations, with minimal impact on the environment. Geothermal is a renewable energy source drawing from the naturally replenishing hot reservoirs beneath the earth. It provides a reliable source of energy, with one of the only downsides being that it is restricted by location. Geothermal rich areas can host these power stations, which makes New Zealand an ideal location and with Falcon recently opening up another office in Taupo, the company is well-equipped for future work with geothermal projects. Scientists estimate that the earth will be around for another 5 billion years, so geothermal energy is most certainly one of our most sustainable environmental solutions for the planet! 
References: